2017 Course Information
The Uphill to Wells Relay
mainly
follows the West Mendip Way. This year the West Mendip Way has been changed and no longer matches the route Marked on Ordinance Survey Maps.
The Route of the Uphill to Wells Relay has not changed. We still have
two diversions from the origional West Mendip Way
on leg six. Please ensure you read and follow The Uphill To Wells Route descriptions and maps.
Maps and Route Notes
When printing the route notes, select 'Shrink to Fit' in Page Setup and then Portrait or Landscape as required.
In addition to these route notes, you will need:
OS Explorer Map 153 for legs 1 & 2
OS Explorer Map 141 for legs 3 to 6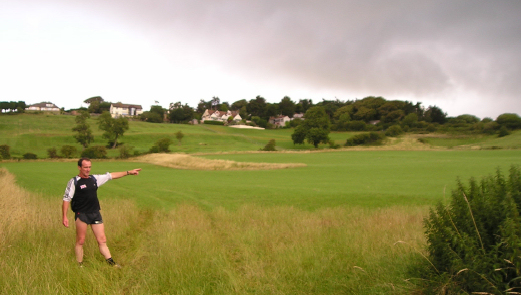 John 'Champion Runner' Reynolds shows the way to Hellenge Hill on
leg 1